Knowledge and preparation are key to mission success. MAG knows this well. With real-world, on-the-ground experience, we know what it takes to succeed when it's 'go time'. That's why our flight simulation operations with virtual, immersive technology are such an advantage to our clients and a key asset for all the other defense and security services we offer. Read on to learn more about how we provide top-line instruction and training for the battlefield.
Better Preparation With Immersive Technology
With our innovative immersive technologies, we provide virtual scenarios in a simulated environment setting. This allows us and our clients to thoroughly test products and equipment capabilities before they ever enter into real-world situations.

Our state-of-the-art modeling and simulation software, simulators, and tools enable the rapid and cost-effective testing and progression of cutting-edge Concept of Operations (CONOPS) and capabilities. By creating precise modeling and simulations, we can fully demonstrate concepts and perform numerous assessments and testing. This allows us to save time and money on costly redesigns.

One place we do this is at our Maryland Interoperability Innovation Center, which, along with modeling and simulation provides:
Software Engineering
Hardware Design For A Variety Of Communications
Rapid Acquisition, Development, Integration, and Test Support Services.
One feature of this center is a customized vehicle focused on creating a real-world, mobile test environment. It's outfitted with the following:
Racks
LRU Mounting Trays
Wiring & Cabling
Power Systems
Test Equipment
Airborne Satellite Terminal Equipment.
The mobile lab enables Over-The-Air (OTA) satellite testing in conjunction with the CONUS satellite network. It also serves as a final quality assurance step prior to integration with our customer's platforms.
The CONUS satellite network consists of a MAG-owned Evolution Hub hosted at a commercial teleport. The teleport connects the Hub on the IF side to IF/RF converters, RF receivers/transmitters and an 11-meter satellite antenna pointed at Intelsat's G-16 satellite (other satellite options are available).

The teleport connects the Hub on the baseband side to the public internet (private fiber options are available). The network is remotely managed by MAG and routinely supports mobile lab testing. It's also been used for flight test support.

Virtual Flight Simulation & ISR Instruction

MAG has created a state-of-the-art training facility that provides the means to train complex, tactical ISR operations from the safety of our hangar while avoiding the risk of weather limitations, maintenance complications, and the prohibitive cost of real-world flight operations.
Thanks to the high level of fidelity of the integrated simulation, students can practice checklist procedures, principles of crew resource management, the latest agile combat employment (ACE) doctrine, and the tactics, techniques, and procedures of their future area of operations.

Our cutting-edge North Carolina Live Virtual Instruction Innovation Center includes a 10,000 ft² innovation center and a 2,000 ft² training facility that supports live, virtual, and constructive (LVC) training on MAG simulators.


MISSION SYSTEMS OPERATOR QUALIFICATION COURSE [MSOQC]
MSOQC gives new operators a foundation of knowledge and abilities with the help of academic instruction, practical exercises, and an immersive simulator.
This training focuses on essentials such as:
Crew Resource Management
Sensor Operations
Incorporating A Moving Map
Effective Use Of Both Chat and Radio Communications
The class culminates in a full mission profile that puts their new skills to the test in a challenging but controlled environment.
ADVANCED TACTICAL SENSOR OPERATIONS [ATSO]
Prerequisite: MSOQC or Similar Formal Training
ATSO is designed for seasoned ISR professionals to get in-depth instruction on challenging sensor techniques and tactical concepts.
Students will leave feeling confident operating in a task-saturated environment and having a better understanding of:
Troubleshooting Methodology
Airspace Management
Collateral Damage Estimates
Combat Search and Rescue
Classroom lectures are reinforced with practical exercises based on real-world scenarios.
INSTRUCTOR DEVELOPMENT COURSE [IDC]
The Instructor Development Course employs a comprehensive, core curriculum equipping instructors to prepare and deliver instruction that promotes the transfer of learning using methodologies and techniques that foster active instruction.
This course supports career progression and values-based training in corporate and military organizations. The performance objectives of this course are:
The Preparation & Delivery Of Instruction
Effective Communication
Questioning Techniques
Evaluation & Feedback
A Variety Of Supplemental Knowledge and Skills
Each of these ISR courses is five days in length and offers 40 hours of instruction. Our instructors are highly-trained ISR professionals with diverse operational, technical, and military experience.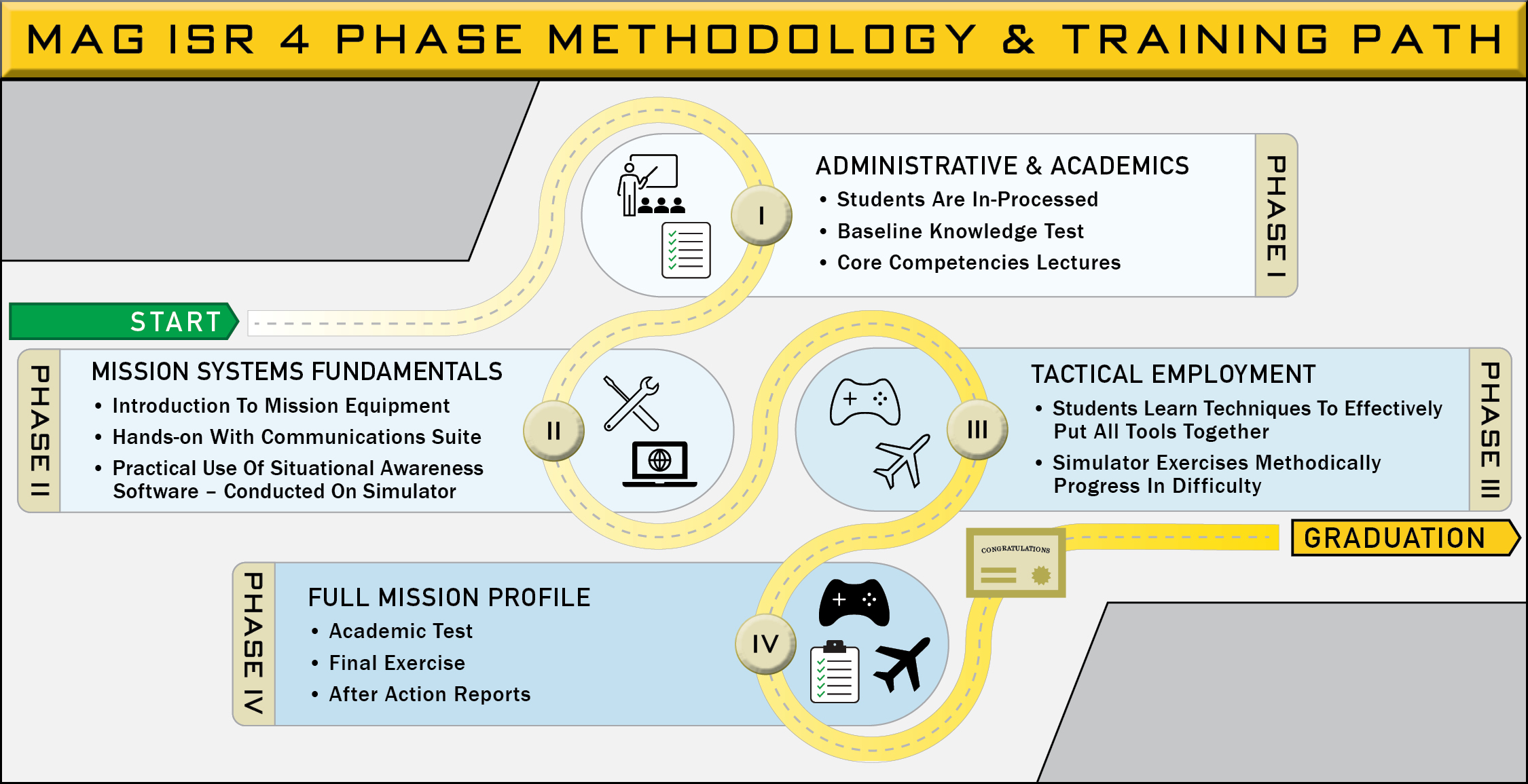 Mobile Training Options
We can also come to you! MAG is equipped to deliver our ISR training and flight simulation to your facility. Our Mobile Training Team can bring everything you need to complete your certifications.

There's Always More With MAG
MAG has many more Innovation Centers and simulation capabilities. Here is just a small sample of what we deliver:
Ft. Walton Beach, FL Interoperability Innovation Center 
This facility provides an innovative environment where technology can be rapidly prototyped, integrated, and inserted to ensure interoperability and relevance throughout the capability life cycle. In support of commercial customers, we also provide low-cost sensor training simulation solutions and U.S. Army Training and Doctrine Command level courseware development and training.
New Jersey Innovation Center
Our Tinton Falls, NJ Innovation Center encompasses our company's breadth of engineering prowess in various technological disciplines bringing together capabilities such as:
Rapid Prototyping
Development
Concept-To-Production Engineering.
For prototyping, our MAG Innovation Team provides design and development solutions via simulations & other proof-of-concept type avenues.

Quicker turnarounds are afforded using rapid application development (RAD), prototyping, system mockup, and reverse engineering. This Innovation Center is certified to handle work at the highest levels of national security.

Learn more about our Innovation Centers' capabilities and our flight simulation and ISR training opportunities. With the power of immersive technology and expert, mission-focused education and simulation, our nation's defense can be well prepared for the modern battlefield!
Search Posts

Recent Posts