Mickii Jones and Jarred Lang, our Hiring Our Heroes Fellows, have successfully graduated from the Hiring Our Heroes Corporate Fellowship Program on Thursday, March 30, 2023.
On behalf of the MAG team, we would like to say thank you and congratulations to both Jarred and Mickii! Over the past three months, you both have served and supported our mission and we are very appreciative of your contributions and all your efforts during your time with us.
Yesterday, we were able to celebrate Mickii and Jarred and present them with a MAG certificate of excellence. The MAG and Hiring Our Heroes Fellowship collaboration continues to be successful because of the amazing talent, knowledge, and experience that Fellows like Mickii and Jarred possess.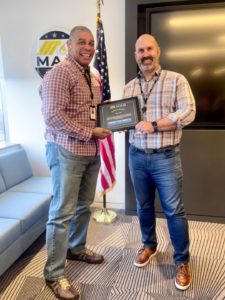 Thank you for your dedication and service to our country and we wish you both the very best as you transition into the civilian workforce; the MAG team is better because of all the value you created, thank you!
To Learn More about Hiring Our Heroes Program and how MAG support transitioning military personnel, please visit: Rewarding Jobs for Veterans | MAG Aerospace
Search Posts

Recent Posts