Aerial reconnaissance has a wide range of real-world, valuable applications both on the civilian side (like traffic monitoring, natural disaster detection, and archeology) and on the defense side (like data collection, border patrol, and military mission support). Of course, the better the technology and competency, the better the results. MAG has both the experience and the cutting-edge platforms and systems that make our aerial reconnaissance capabilities extremely beneficial to clients in both the private and public sectors. See how we do it.
Wildfire Reconnaissance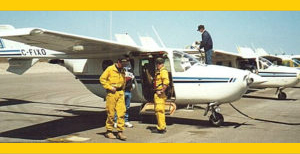 We may be mostly known for our military and defense agencies' support, but our expertise has other critical uses as well – one being fire mapping, monitoring, and detection.
We maintain a fleet of Cessna 337s that are capable of instantaneous communication with live data transmission via satellite. They come with highly-trained crews and a suite of optical and IR sensors. With these tools at hand, we have detected hundreds of initial wildfire starts – critical to reducing loss of life, property, and damage to the environment.
Mission-Ready ISR
MAG also operates manned and unmanned data collection platforms with ISR capabilities. We offer the full spectrum of ISR operations, and our multi-intelligence services include:
Electro-optical infra-red (EO/IR) full motion video (FMV)
LIDAR
Synthetic aperture radar (SAR)
Hyperspectral imagery (HSI)
Signals intelligence (SIGINT)
Maritime patrol surface search radar
We know that ISR technologies are always evolving and progressing, and we have mastered the art of rapid adaptation of new capabilities, ensuring we stay on top of emerging flight systems and intelligence-gathering technologies so that client operations are continually optimized.
Aerial mapping and data collection demands a versatile range of performance. MAG offers a wide spectrum of capabilities and sensors with our flight solutions using traditional radar, GPS-based technologies, or a combination of both.
MAG also offers custom solutions for both commercial and government clients, and we have a proven track record of researching, designing, and developing new products for emerging technology. Plus, our technical and manufacturing expertise and control support ensures a smooth integration with the aircraft.
In addition, we provide training on all systems and platforms. In fact, with we can provide FAA-certified support for the entire project life cycle – from initial development all the way to maintenance.
MC-208 Guardian Aircraft – Built for Effective, Efficient Reconnaissance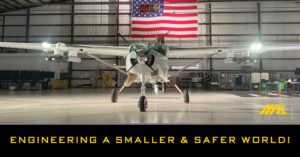 Another key asset of our aerial reconnaissance capabilities is our MC-208 Guardian aircraft. Built in the USA, it contains MAG-integrated sensors, communications, avionics, and weapons systems. The MC-208 can easily support missions such as:
ISR
Air mobility
CASEVAC/MEDEVAC
Armed reconnaissance
Strike coordination
Precision strike
We designed the MC-208 Guardian to operate with minimal support and tooling, and it boasts a historic 98% availability rate with a very low cost-per-flight-hour. Here are some other highlights about this reliable and versatile aircraft:
USAF SEEK EAGLE certified
Easy breakdown for transport with a 9-hour reassembly time
Able to take off and land on short, austere runways
8-hour total mission duration
Multiple, secure communication channels
Time-synchronized digital recording of cockpit audio and MFD data for playback
Four weapons-capable hardpoints
Auto-pilot able to control ISR flight orbit
Oxygen capacity for 2 crew for 8 hours
All flight instruments and mission displays are NVD compliant
Get more information about the MC-208 Guardian and how it can support aerial reconnaissance missions, plus much, much more.
Speciality Aviation Solutions for Aerial Reconnaissance on Non-Standard Platforms
MAG leverages our aviation and technology expertise to create custom solutions for non-standard aircraft platforms, even in the most challenging environments. Here are just a few examples of our capabilities:
Emergency evacuation
Prime contract for FEMA emergency response
Prime contract providing fixed-wing charter for US Marshals
Comm systems – LOS / BLOS
Navigation systems
Aircraft survivability equipment (ASE)
COMINT / SIGINT
Mission management systems
The Benefits of Aerial Reconnaissance
Leveraging modern aircraft systems and the latest surveillance technology for aerial reconnaissance has several major benefits for both defense agencies and civilian organizations.
One of the biggest is lower risk to personnel. Using aerial reconnaissance versus on-the-ground data collection and intelligence gathering keeps human beings farther away from enemy fire and other present dangers.
Another benefit is the high-resolution imagery that aircraft systems technology provides. This makes it easier to map out areas, identify concerns, dangers, and targets, and make more fully-informed plans and decisions.
Faster data collection is another bonus of cutting-edge aircraft reconnaissance technology. Being able to relay data in real-time is an invaluable advantage on the battlefield and in critical situations like natural disasters.
Aerial reconnaissance can also cover a much greater area than ground reconnaissance. Being able to see more and collect more quality data in a much shorter amount of time is a potentially life-saving benefit.
Aerial Reconnaissance in the Field
In the recent past, We put our aerial capabilities to good use in Afghanistan, helping the US Army, Special Operation Forces, and the Afghanistan Special Missions Wing battle the country's narcotics trafficking.
More recently, we've partnered with L3Harris to support airborne ISR missions for the US Army. Together, we're providing ISR-ready aircraft for the Army's Theater Level High-Altitude Expeditionary Next Airborne ISR Radar (ATHENA-R) program in the Indo-Pacific region.
MAG is the prime contractor for the Army's Sensor Technology Operations and Readiness Maintenance contract. We are equipping the aircraft with new radar, electronic, and communications intelligence capabilities and will help close the gap between the Army's medium- and high-altitude ISR aircraft fleet.
Connect with MAG for more information about our services and capabilities, and let's see how we can support you.